Our Line 6 Helix patches are meticulously crafted to sound perfect for modern praise and worship music. We offer both base patches (think a massive pedalboard into an amp – or amps), and song-specific patches where you get the exact sounds from a song at the push of a button.
Try this full-featured patch for free! You includes multiple overdrive, delay, and reverb options. Click here to learn more and see exactly what's included.
Demo & walk-through of our Cartographer Helix patch
These are our best-sounding patches for the Helix. Each one includes at least two versions: one designed for use with IR cabs and one with stock Helix cabs. Some include variations for guitars with single coils and humbuckers.
Each premium patch is set up to work great for modern praise and worship settings. They're designed to run in stomp box mode, and each patch includes multiple drive settings as well as tons of delay and verb options. Think of it as having a massive board into world class amps with super simple usability.
Click through to individual patch pages to see demo videos.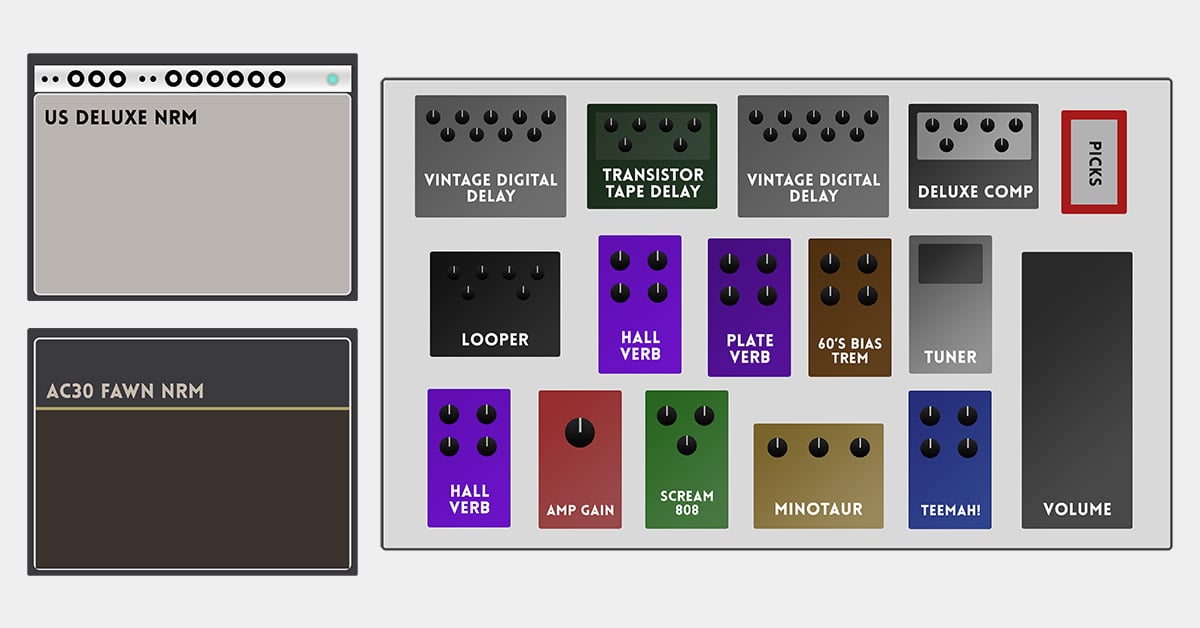 Graphical interpretation of our DLX + AC30 patch
Artist Series Helix Patches
These patches re-create the sounds from popular guitar players and bands/worship teams.
Building Blocks – Helix and HX Effects Patches
Our building blocks series are patches designed to give you a database of effects sounds specifically dialed in for modern worship music. Each patch contains various effects within a single category – drives, reverbs, delays, and modulation. Copy effects blocks from these patches and insert them into new or existing patches to instantly get sounds that will work great every time.
Song Patches
Song patches are designed to mimic the guitar sounds for specific worship songs. Each patch includes both an IR-ready version and a stock Helix cab version. These are designed to be used in 'Snapshot' modes, and are set up with snapshots for specific parts within a song.
Each patch contains a full play-through demo video of the song.
How are the premium patches different than the free AC30 Patch?
Our premium patches are more fully-featured than the free AC30 patch, and if you choose to use the IR Cab versions with the specific IR's we pair with them, they sound even better. See the list below to compare features.
NOTE: The IR Cabs themselves are not included with our premium patches. We link to the specific IR's we use in each patch if you'd like to match our settings, and we include stock cab versions of each premium patch. We highly recommend investing in the IR Cabs we use – they do make a difference. We try to use IR Cabs from the same manufactures and cab sets, so you only need to purchase one or two sets.
Premium Patches
Multiple Drive options
Multiple Delay Options
Multiple Reverb Options (Big ambient Verbs)
Swells
New Line 6 Reverbs (Awesome modulated reverb options)
IR Cab versions
Snapshots (classic tones at the push of a button)
Free AC30 Patch
Multiple Drive options
Multiple Delay Options
Multiple Reverb Options (Big ambient Verbs)
Swells
Blog Posts
Thoughts and usage tips for the Helix