The original album version is in the key of A, which is pretty high for a male lead (especially in the bridge). In the acoustic video and our tutorial, we've done it in the key of G. To play along with the album, just use a capo on the 2nd fret.
So Will I (100 Billion X) – Hillsong United arr. – Chord Charts
$1.99
Description
Chord Chart kits include charts with lyrics and chords over the top of the words in all keys. Your download will be in the form of a .zip file which includes a chart for each key (PDF), and a .txt file in ChordPro format for pasting into applications like Planning Center or any other app that accepts ChordPro formatting.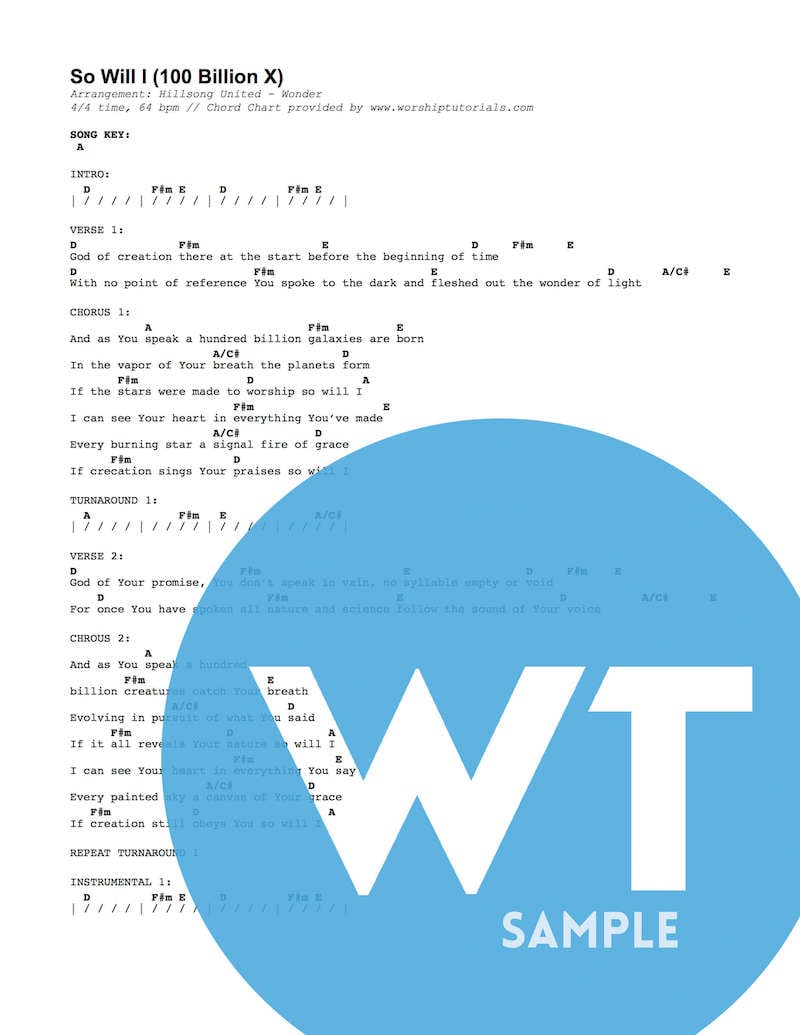 Only logged in customers who have purchased this product may leave a review.
Acoustic song video:
Guitar: Martin CEO-7 // LR Baggs Anthem pickup
Recording chain (guitar): LR Baggs Anthem pickup output – UA Apollo Twin Duo interface
Software:
Audio/recording: Apple Logic Pro X
Video: Adobe Premiere Pro (editing), Davinci Resolve (color)
Camera:
Blackmagic Ursa Mini 4.6k
Sigma 18-35 f/1.8 lens
Should we be singing this song in our churches (it mentions evolution)?
There is a line in this song that reads:
And as You speak, a hundred billion creatures catch You breath
Evolving in pursuit of what You said
Since this song mentions evolution, should we be singing it? My educational and vocational background is in science. I was a chemistry and biology major in college (undergrad) and I worked in a medical research lab for years before moving into full time ministry.
View the latest songs and tutorials