View the all the basic guitar lessons here
This is the 3rd lesson in my basics of guitar series. In the first lesson, we learned how to hold the guitar, how to read chord diagrams, and how to play our first chord, the D chord. The second lesson covered the main chords used in the key of G: G, C, D, and Em.
In this lesson, you'll learn the four most used chords in the key of A Major: the A chord, the E chord, the D chord, and the F#m chord.
How to play the chords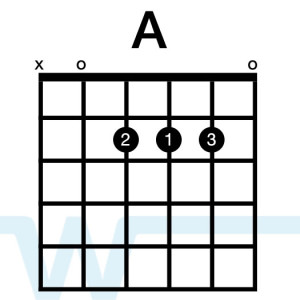 (click chord diagram images to see a larger view)
I like to stagger my fingers by using my 2nd finger on the D string (2nd fret), first finger on the G string (2nd fret), and third finger on the B string (2nd fret). All your fingers are on the same fret, so there wont be a lot of room. I make a sort of triangle with my fingers where the 1 finger sits behind the 2 and 3 fingers.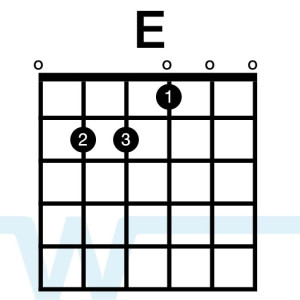 E is a pretty easy chord. It's a lot like the Em we learned in the last lesson, only you put your one finger on the D string (first fret). This make the chord a major rather than a minor.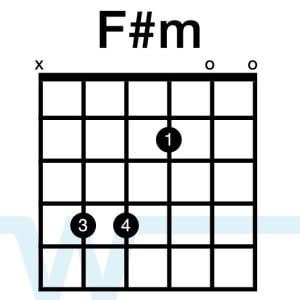 F#m is one of the first moderately difficult chord you'll learn as a beginner. Typically it's played as a barre chord, but this open version is much easier to play. Place your 3rd and 4th fingers on the A and D strings (4th fret), and then stretch your 1st finger down to the G string (2nd fret). Make sure not to let your index finger touch the B or high E strings.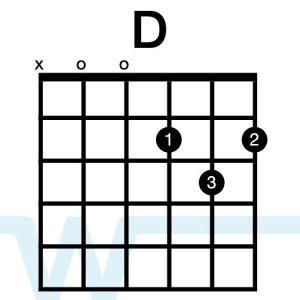 I've covered the D chord in the previous two lessons, so if you need more guidance on this chord, please refer to the initial lesson.
Songs to play using these chords